Mackay growers were the first in Australia to be able to individually forward price, and have had access to innovative and flexible forward pricing arrangements for more than 15 years. But why should you consider forward pricing?
A grower who forward priced each year over the last 11 completed seasons is, on average, $26 per IPS tonne of sugar better off than a grower who only priced in-season through the Short Term Pool.
Forward pricing vs Short Term Pool—11 seasons (2008 season to 2018 season)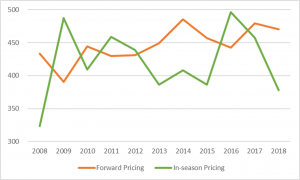 Forward pricing
$/t IPS

Short Term Pool
$/t IPS


Difference
$/t IPS

11-year average
447
421
26
Our forward pricing options are flexible and simple for you to manage. We don't require you to work out contract expiries or price in specific amounts. Features include:
Price up to three seasons ahead of the current season, within current limits of 60% of 2021, 50% of 2022 and 40% of 2023 Season GEI Sugar.
Sugar is committed for the relevant season once it is priced. Until then, you can add or remove tonnage.
Sugar not priced during the pricing period for the relevant season becomes in-season tonnage
Let QCS manage the pricing & marketing decisions for you or control your own pricing outcomes.
FIND OUT MORE
You can browse our forward pricing page, or contact QCS Grower Services Officer Arthur Douglas on 0447 534 791 or via email.